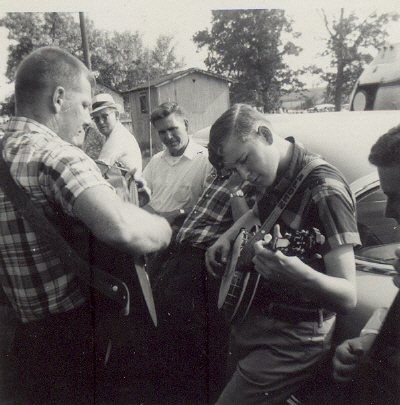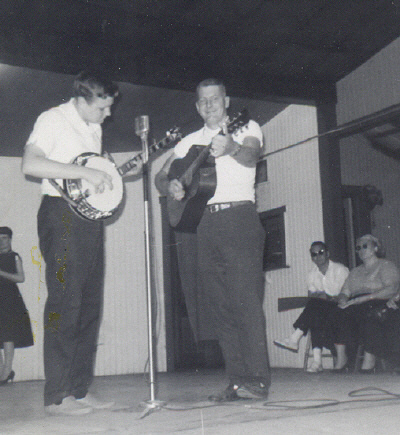 1965 Competing in the 5 string banjo contest at Sunset Park in Oxford, PA. This contest was a major event and contestants from all over the US and Canada showed up. The gentlemen playing guitar with me in the photo is Red Britton from Broomall, PA. Red was a very solid player and a great fellow to jam with. We used to play bluegrass music together often in the 60s. After listening to several monster players warming up in the parking lot before the event I honestly didn't think I had much of a chance. I have never heard more fine, technical players. I wouldn't have even entered the contest but a family friend signed me up 10 minutes before it started. Many of the contestants picked difficult songs that would impress the other players. Good stuff but not very appealing to an audience chomping at the bit to hear burning bluegrass banjo. And to make it worse a contestant's score was determined by a combination of several judges scores and the audience's response. Others had no stage experience and simply fell apart in front of the several thousand people attending. Seeing all of that unfold, we decided to just have fun. We walked out on stage, played a favorite breakdown selection fast and clean and I wound up placing 2nd. Larry McNeely, future banjoist for Glenn Campbell and Roy Acuff, won the contest. Larry was a bit of a ringer but I was elated to get as far as I did.
My Mom and Dad were both musicians. My Dad also performed in bands as a young man. His primary instrument was five string banjo and Mom's was the Hammond organ. My musical experience started when they presented me with an old Fender Hawaiian steel guitar at around age six. I took some formal lessons on it and eventually played well enough to perform instrumentals in church, sometimes in a duo. Most of the steel guitar music that I played was either country or gospel and at the time I wanted to play more of the rock songs like I heard on American Bandstand. I started borrowing my Dad's electric spanish guitar and tried to learn some of that music as well. I became
skilled enough to play favorites like the "Guitar Boogie" and some surf music and popular Duane Eddy instrumentals. I eventually took up the mandolin, organ, and other stringed instruments.
Though my Dad was an accomplished banjo player, and I enjoyed hearing him play it, I had no real interest in playing the instrument myself until I saw the Beverly Hillbillies show. Hearing Earl Scruggs play that one song really changed my life. Inspiration struck. Music went from being just a hobby to a life long obsession. Right then I had to learn how to play the banjo like that. My Dad was elated and promised me a fine banjo if I could learn that one song well. In a few weeks I could do a decent job of the tune and he made good on his promise. Within the next year or so things really became interesting. In no time I was quite well known, had a band and also a radio show on Saturday mornings at WJWL in Georgetown, DE.
My Dad had a basic music store at our home near Milford in the 50s. Around 1962 he went full time at 8 South Walnut Street in Milford. By the mid 60s our family had also opened another music store on Lockerman street in Dover. Both were great places to hang out and there I met most of the area's better players. I also started teaching guitar and banjo lessons everyday after school and all day on Saturdays. The store would continue on until the mid 80s, though it still exists as my repair business and I still deal in instruments.
Though my banjo playing had improved a lot, my guitar playing hadn't. So I applied some of what I had learned on banjo to the guitar and improved. I started tackling more complicated tunes by Chet Atkins and the various jazz artists but I needed more advanced music theory to go much further on it. My friend Frank Parsons helped me with all that. He was a well known local player working in the better Delaware area bands. Then he attended Berkley School of Jazz in Boston for a year. After he came back to this area he had theory knowledge and his overall playing was much improved. He and I had been good friends for some time and had jammed together often. He took the time to teach me the basics of what he had learned. In a short time my overall playing improved greatly. I continued to practice the steel and other instruments too but back then my priorities were the banjo and electric guitar. Around 1965 I was entered in the five string banjo competition at Sunset Park In Oxford, PA and placed 2nd. A fellow named Larry McNeely, who later became a regular player on the Glen Campbell Show, won the contest. The competition involved some of the finest players in the country so I felt pretty honored. I played in both bluegrass and rock bands throughout high school and into college, helping run the family music stores. My father had a stroke in 1969, leaving him incapable of participating in the business to any extent. Around 1973 I would venture to New York to do some recording and visit my old friend Geoff Daking , former drummer for the 60s psychedelic band The Blues Magoos. A while later I received a call from the same studio and they connected me with a guy named Stu Nunnery. Stu had recorded an album there for Evolution records and he was looking was looking for someone versed on several stringed instruments with arranging skills. I really liked his singing, piano and guitar playing and his original tunes. Stu was also a good entertainer and nice fellow. We hit it off and spent the next year working together. Every week or so I would travel to NYC to rehearse and perform shows with him for a several days. I'd return home and work in the store for another week. It was great and I performed in several very memorable shows but eventually I would quit Stu's band because of my responsibilities at home. For me the rest of the 70s would be spent performing in better local bands and operating the family music business. Around 1978 I started a recording studio business. Several of my friends helped in the project and would become the studio band. We did records, demos and over 175 radio jingles to keep it running. We also recorded some originals of mine and eventually released a single by the Movies band called "Photograph". I ran the studio until 1985 while continuing to perform out. After that the bands I played with worked more on the road. In 1989 I started an instrument repair business and I continue to do that. Around 1995 I started doing my solo musical act and in 2006 The Movies band was reformed.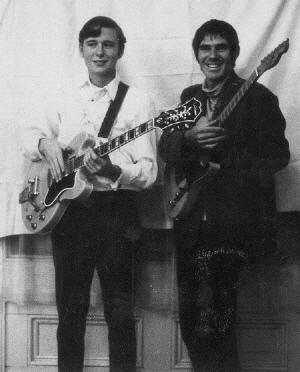 1966 - Jamming with my friend Mike Esposito, of the "Blues Magoos" band, in our music store on Walnut Street in Milford, DE. Mike and the band had just come off tour with "Herman's Hermits" and "The Who" and had appeared on The Kraft Music Hall a few nights before. Mike is playing an early 50s no-caster "Broadcaster Fender and I am playing a mid 60s Epiphone Sheraton.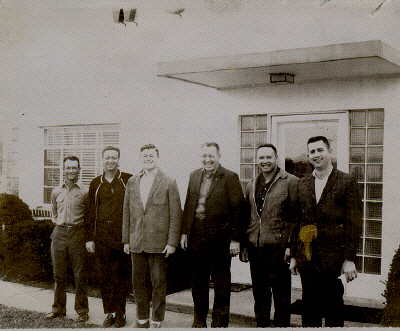 1964 - The radio show band. The members left to right are Bob Ellers (fiddle), Herb Lane (primary guitar), Junior Wilson (banjo, mandolin and electric guitar, Reds Stacy (vocals, basses and emcee), Vernon Lyons (steel guitar) and Sammy Travis (baritone vocals & guitar). Not in the picture are Ginger Lee (female vocals) and Rick Shelton (bluegrass vocals & guitar). Every Saturday morning for a year or more we did our radio show live at W.J.W.L. in Georgetown, DE. This band came together as a result of regular jam sessions held in my family's music store in Milford throughout the early to mid 60s. We would also do live shows quite often. It was the first professional band I was in and all of the players were top notch. Music varied from bluegrass to western swing, old country favorites , rock a billy and newer country. it was a fun band and a great experience.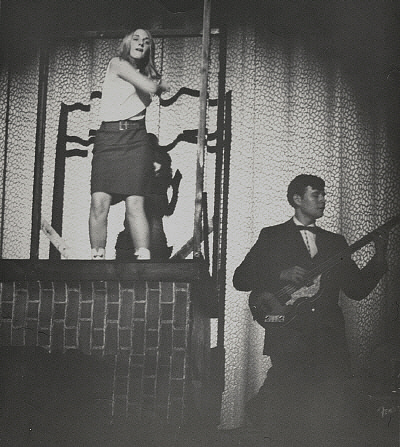 1967 Battle of the bands at the Milford Shine Theater. I'm sitting in on bass with "The Morticians", a band from the Georgetown, DE area. Their group bassist was injured the day before and they were without a player. Though I wasn't really a bassist I played it well enough to get them through O.K. I borrowed a Hofner Beatle bass from the store inventory. The go go dancer was a Milford High class mate Dianne Davies.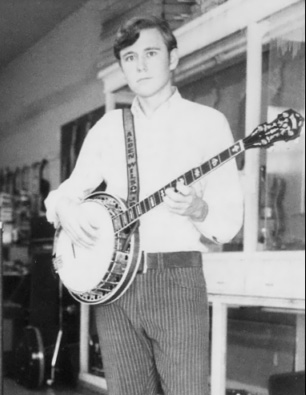 1967 - Wilson's Music Store in Milford- I am practicing on my Fender banjo. Notice the walls of now vintage instruments.
Click here for more info on Wilson's Music Store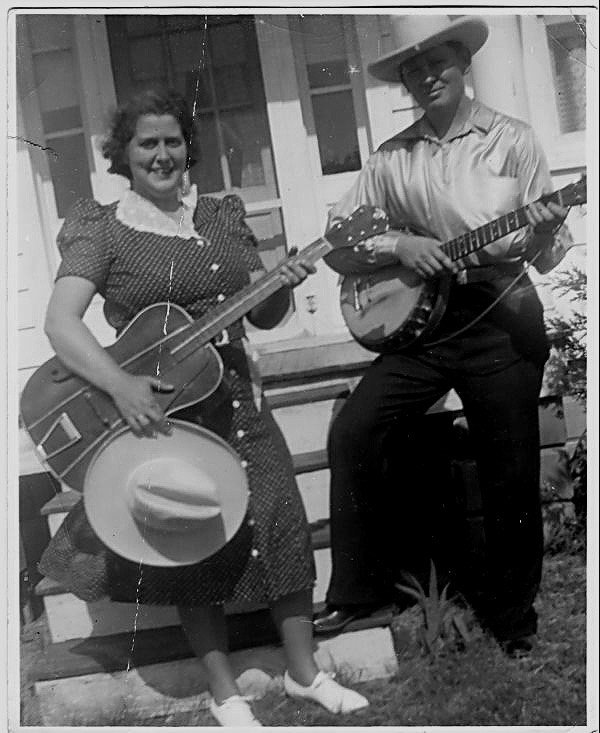 This was taken of my parents Elizabeth and Alden Wilson during W.W.II, while they were living in Essex, MD. They both worked at the Glenn L.Martin Aircraft factory nearby and like many others had moved to help out with the war effort. They really weren't cowboys but western dress up was popular back then . Dad played the banjo guitar and other stringed instruments but Mom was actually an organist. He also sand and performed in dance bands of that era.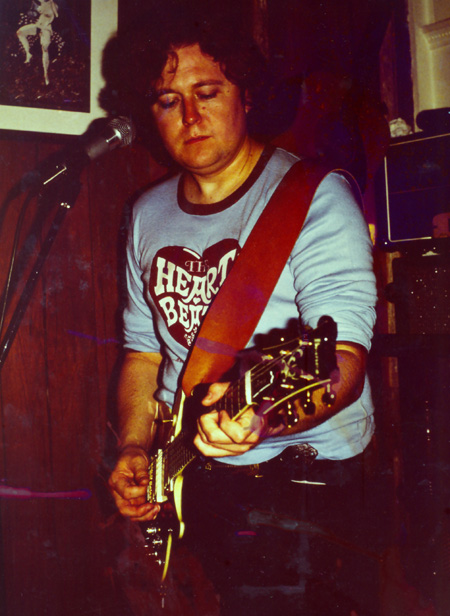 1980 - A summer evening at The Talbot Street Cafe in Ocean City, MD performing with Tader & The Heart Beatz. That's a customized Ibanez Artist EQ I'm playing.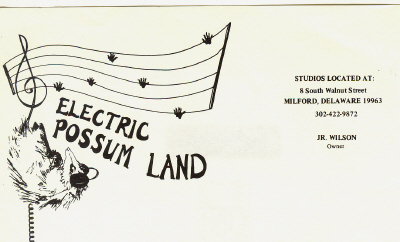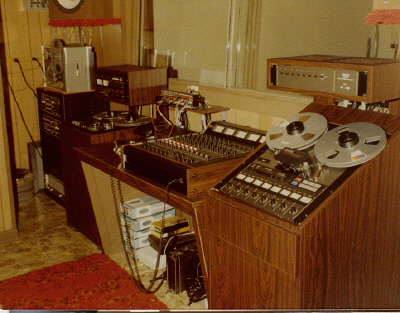 1977 - The control room of Electric Possum Land studios.